Mass vaccination and sterilisation project in the Vhembe district, Limpopo, South Africa
At least 24,000 people, mostly children, die of rabies in Africa every year. Rabies is endemic in large parts of South Africa with Limpopo being one of the worst affected areas.  Limpopo has seen a recent rise in cases of confirmed rabies in animals.
After the success of our mass vaccination and sterilisation campaign in Mpumalanga, South Africa earlier this year, Vets for Change ran another intensive month long mass rabies vaccination campaign in Vhembe district, one of the worst affected regions of Limpopo.
Sponsored by Welttierschutzgesellschaft e.V.  and in cooperation with the South African state veterinary services the teams of local and international volunteers managed to vaccinate more than 12.000 dogs against rabies and ran a pilot sterilisation and education campaign in a few chosen villages. The campaign was well received and more than 220 dogs were sterilised and can now lead a better life, without the risk of tumours and other health issues which comes with breeding twice a year. As we managed to sterilise more than 70% of the dog population in the areas that we worked we are certain that the number of dogs will decrease.
Education is one of the most important aspects of any animal welfare campaign so part of our work in the villages of Limpopo involved visiting the local schools to talk about animal welfare and humane dog handling.
We did a play in each school to teach the pupils the meaning of the 'five freedoms', as stated by the Britain's Farm Animal Welfare Council (which the children loved, especially because two 60 years old Italian vets were acting as the little dog and a little child!)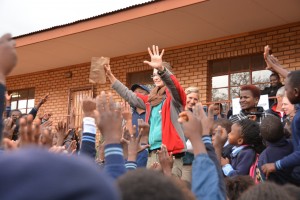 1. Freedom from thirst, hunger and malnutrition
2. Freedom from discomfort
3. Freedom from pain, injury and disease
4. Freedom to express normal behaviour
5. Freedom from fear and distress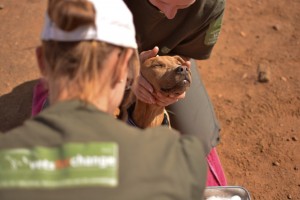 By teaching the little ones in a playful way how special the relationship to a dog can be we lay the foundation for a special bond between both. In some ways, the next generation are the solution to most animal welfare problems.
While running these projects we are very aware of the great importance of treating the dogs in a gentle and kind way: when they have to be held (sometimes for the first time in their life) for their vaccination or pre-medication injection, when we place an intravenous catheter or when they wake up after their anaesthetic, feeling confused and disoriented. By showing compassion we can set a great example about what animal welfare means!